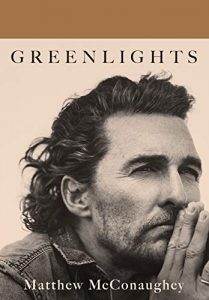 Author: Matthew McConaughey
Rating: 10/10
I admit that I was skeptical when first I saw a new episode of the Tim Ferris Show with Matthew McConaughey. I definitely didn't expect to immediately buy his book on Audible after listening to that episode and then buy and read a Kindle version after that. Not only it surprised me that the book is good, but it surprised me just how good it is.
Wildly entertaining, remarkably wise, and candid, this memoir brings you on a philosophical and inspiring journey of McConaughey's life.
"Greenlights" tell us to continue along our path, not only in traffic but also in life. Sometimes we come to red and yellow lights, but through a combination of luck, skill, and different point of view, you can make them "greenlights."
Using beautifully profound and engaging life stories, the author looks back over the first 50 years of his life and illustrates how some of his red lights turned green and how he has always kept his eyes open for the next green light.
As McConaughey says at the end of the book, "I hope it can be useful and lend a hand if you need it, that it might teach you something, inspire you, make you laugh, remind you, help you forget, and arm you with some life tools to better march forward as more of yourself." – and I can confirm that it does all that and more.
Highly recommend listening to McConaughey himself telling this incredible story in the audiobook.
Highlights
"As I've navigated the weather in my own life, getting relative with the inevitable has been a key to my success.
Relatively, we are livin. Life is our résumé. It is our story to tell, and the choices we make write the chapters. Can we live in a way where we look forward to looking back?
Inevitably, we are going to die. Our eulogy, our story, will be told by others and forever introduce us when we are gone."
"time and truth. Two constants you can rely on. One shows up for the first time every time while the other never leaves."
"If we'd all make sense of humor our default emotion, we'd all get along better."
"Rather than struggle against time and waste it, let's dance with time and redeem it because we don't live longer when we try not to die; we live longer when we're too busy livin."
"Death, family crisis, and newborns—the end of a life, trying to keep a life, and welcoming in a new one—these are three things that will shake your floor, give you clarity, remind you of your mortality, and hence, give you the courage to live harder, stronger, and truer. Three things that make you ask yourself, "What matters?" Three things that make you realize, "It all does.""
"The great man is not all to each, he's each to all. The genius can do anything but does one thing at a time."
"Some relationships are better in a close-up. More impressive with more definition. Like the woman whose photograph doesn't turn you on, but in real life she does. Sometimes we need to be near. It's love, it's literal. Closeness is the quiet moments together, the pain shared, the beauty seen, the honesty. It's authentic. It's reality. A constant relationship because we can see it, we're sure about it, we know it. It's making love. It's attachment. It's togetherness. It's private. It costs us. It hurts. We own it. And we like it that way, because sometimes it's better with the lights on."
""What would I have to do to lose you?" I asked. "Oh, that's easy," she said as she turned her head to me. My heart raced. Her eyes found mine and settled. "Change," she said."
"the arrow doesn't seek the target, the target draws the arrow We must be aware of what we attract in life because it is no accident or coincidence. The spider waits in his web for dinner to come. Yes, we must chase what we want, seek it out, cast our lines in the water, but sometimes we don't need to make things happen. Our souls are infinitely magnetic."
"Great leaders are not always in front. They also know who to follow."
"You ever get in a rut? Stuck on the merry-go-round of a bad habit? I have. We are going to make mistakes — own them, make amends, and move on. Guilt and regret kill many a man before their time. Get off the ride. You are the author of the book of your life. Turn the page."
(Visited 54 times, 1 visits today)